ere is the list of companies and brands that are either owned by Monsanto, or are known to use genetically modified seeds sold by Monsanto:
Aunt Jemima
Aurora Foods
Banquet
Best Foods
Betty Crocker
Bisquick
Cadbury
Campbell's
Capri Sun
Carnation
Chef Boyardee
Coca-Cola
ConAgra Foods
Delicious Brands cookies
Duncan Hines
Famous Amos
Flowers Industries
Frito Lay
General Mills
Green Giant
Healthy Choice
Heinz
Hellmann's
Hershey
Holsum
Hormel
Hungry Jack
Hunt's
Interstate Bakeries
Jiffy
KC Masterpiece
Keebler
Kellogg's
Kid Cuisine
Knorr
Kool-Aid
Kraft
Lean Cuisine
Lipton
Loma Linda Foods
Marie Callender's
Minute Maid
MorningStar Farms
Mrs. Butterworth's
Nabisco
Nature Valley
Nestlé
Ocean Spray
Ore-Ida
Orville Redenbacher's
Pepperidge Farm
Pepsi
Philip Morris
Pillsbury
Pop Secret
Post cereals
PowerBar brand
Prego
Pringles
Procter & Gamble
Quaker
Ragú
Rice-A-Roni & Pasta Roni
Schweppes
Weight Watchers Smart Ones
Stouffer's
Tombstone frozen pizza
Totino's
Uncle Ben's
Unilever
V8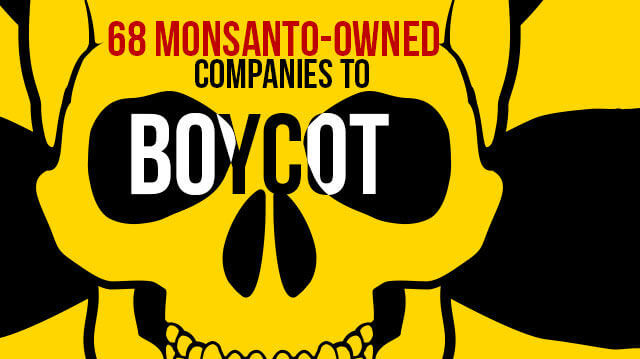 So what is a concerned consumer to do? We recommend getting on the organic train, and staying there. Certified USDA organic products do not contain GMOs and are therefore safe for consumption. However, certain processed organic foods may still be owned by Monsanto. That's why it's even more important to buy local, seasonal organic produce and free-range, pastured animal products from small brands that you know and trust. Anything that comes in a box, bag, can or package is better left alone.
If you do choose to buy packaged foods, try using an app such as Buycott, which is able to determine the "family tree" of a company and let you know if it is associated with Monsanto. Then you can pop that product back on the shelf and choose a different one. Boycotting these companies and brands will strengthen the force against the dangerous agricultural practices they are promoting.
We encourage you to join the movement against Monsanto and say "NO!" to everything it represents by boycotting these products. Learn more about anti-GMO efforts here.
 —Liivi Hess